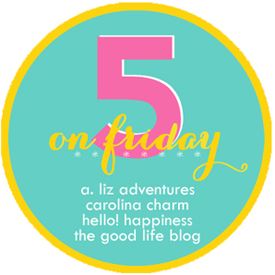 Holy moly we made it to Friday! The dreary weather made this week drag by and by the looks of it there is no sunshine in sight. Which is really putting a damper on weekend plans here lately.
But hey, it's October! So that's something to be excited about.
On to five things I'm loving this week
One
My blue satin fingernail polish from Chanel. My sister got it for me a few years ago (Lord knows I'd never pay that much for nail polish) and it has been my favorite fall color since. I'm pretty sure I've talked about it before but it's worth mentioning again.
Two
I got a new water bottle a few weeks ago and it basically goes everywhere with me. I try and drink 100oz a day so toting around a 32 oz bottle helps me stay hydrated. And the cute pink and green color scheme is my favorite. I couldn't find the exact one I have (I did get it on clearance), but you can find a similar one
here
Three
Rememeber last week when I said I was obsessing over Moonpies? Well this week its been Firecracker Chicken Wraps from Longhorn..... weird right? Since I had them a few weeks ago, they are all I can think about... I plan on getting an order or two this weekend to satisfy this craving, cause good gracious its real.

Four
I finally put up our fall (well Halloween) decor on Wednesday night! I love having pumpkins on our front porch. I also love how easy fake carve-able pumpkins are. We do have one real pumpkin that Tyler bought me last weekend, but the rest are fake's that I've purchased over the past year or two (I always hit the craft stores the day after holiday's to get decor on the cheap. 75% off regular priced items? Yes please!). I'm sure once we have a little one running around we will go the real pumpkin carving route, but for right now, I embrace the ease of carving it once and having it lasts for years.
Five
Have you watched Scream Queens? I didn't watch it the first week but caught up this week thanks to On Demand, and I'm hooked. Its so stupid and over the top which makes it fabulous. I love how it basically is making fun of every teen horror and romance movie/tv show from the last 20 years. I will admit I'm glad they killed off Ariana Grande the first episode though, because I don't think I could handle listening to her every week.
Hope everyone has a great weekend! And I hope wherever you are that the weather is nicer then it is in Charlotte!