Oh hey guys! Guess what? I'm still alive! And I'm planning on jumping back in to the blogger world but per usual... I'm making no promises. With that rousing re-introduction why not start off with a bang and join the ladies for 5 on Friday!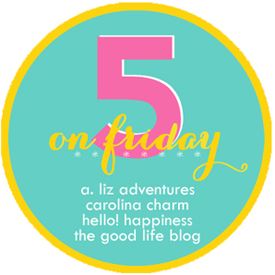 ONE
I've been on a sushi bender lately and I'm not even ashamed. Jerry (the sushi chef at Harris Teeter) and I are on a first name basis at this point. Yes, I said Harris Teeter.... sure it was scary at first but I don't actually get "real" sushi so I figure you can't screw up a California roll too bad. So $6 Harris Teeter sushi it is!
TWO
We are getting a new bed this weekend and I'm busting at the seams excited about it. We have been crammed in a queen size bed for almost 4 years now and while it was perfectly fine when it was just the Hubby and I, over the years we have added 2 dogs and a cat to the mix and I'm getting tired (pun intended) of sleeping on 2 square feet of bed at night. This chick needs her beauty rest so king size I-Comfort here I come! (Bonus: if you didn't know, I actually was a mattress sales lady for 6 months a few years back.... anything for a pay check!)

THREE
Speaking of bed's, since we're upgrading to a king size we have to get a new frame/headboard and instead of going the store bought route I plan on putting Hubby (and maybe the brother in law) to work to make me one of these beauty's. Any tips on how to make this go smooth would be greatly appreciated. Right now our garage is slammed full of pallets just waiting to be deconstructed and made in to something beautiful!
FOUR
ITS SEPTEMBER! Just in case you didn't realize that.... which means FALL IS ALMOST HERE! And its anniversary month! All of the wedding related Time Hop posts recently make my heart happy. Happy because I've spent four years with the love of my life, and also happy because I never want the stress of planning a wedding again.... Bless it.
FIVE
Which means fall decor! It's time to take down the American Flag decor (yes we celebrate the U.S. all summer long at our house) and hang up the orange and black! To say I'm excited is an understatement. Fall is my favorite season (all three weeks of it that we get here in Charlotte)
Happy weekend everyone! See ya soon