Happy Friday! While I'm excited that its Friday I'm writing this from my bed. I've been battling headaches for the past three weeks and I'm kind of over it. But in an effort to make myself feel better and while I'm waiting for a report to run on my work laptop I figured why not focus on some good things!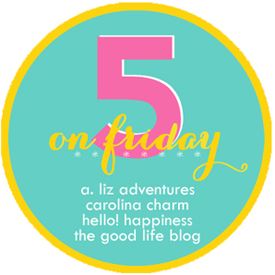 ONE
Married at First Sight: The First Year on the FYI channel.
I'm in love with this show and these couples. I actually went to highschool with Courtney and she is as sweet in person as she is on the show, so its really fun seeing her on TV. We weren't close, kinda the whole "I know who you are and our friends are friends but I don't have your phone number" type thing.
TWO
Speaking of marriage, Tyler is kind of my favorite. He has been really sweet while I've been dealing with these headaches and just feeling like crap in general. Bringing me things in bed, rubbing my shoulders. The whole nine yards. I'm thankful that I have such a caring/sweet man as a husband.
THREE
Coffee is one of the other loves of my life, and I recently discovered the Gevalia Caramel Macchiato for my Keurig. I even dare say that its better then Starbucks. If you're a fan of latte's you need to try this stuff out. Yummy Yummy!
FOUR
What better way to enjoy a homemade latte then in a mug that speaks the truth. I found this gem at TJMaxx and it's my new favorite.
FIVE
My otterbox... I have a terrible habit of dropping my phone, and thankfully my otterbox has done its job so far. Fingers crossed it holds up. Its pretty cute too.
Hope everyone had a great week and here's to a great weekend! And if you are so inclined please send a few prayers my way, I'm really ready to feel better and could use the prayers. Thanks!