I have been a complete slacker the last two weeks in just about every aspect of my life. I've enjoyed myself though, not even gonna lie. I didn't participate in this link up last week so I'm bending the rules and this Five on Friday will include the last two weeks!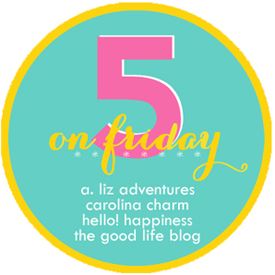 One:
Went to five rounds last Monday and it was fabulous. This was also the only workout I completed in the past two weeks.

My cousins rehearsal dinner was awesome! The Panthers and VT mascots showed up! How cool is that?

Three:
The wedding day was perfection. The weather couldn't have been better and it all went flawlessly.

(Pictures from the wedding to come I promise!)
Four:
Girl Scout cookies.... Finally got mine from my niece on Sunday and I've almost finished a box of Samoas. I swear there is crack in them.
Five:
The weather yesterday was amazing! We took the dogs on a walk and discovered that cupcake likes to go on walks too.

That white blob on the left is cupcake, and obviously Tyler and Roxy were deep in conversation haha.
So yes while I failed on working out and eating right it was a damn good two weeks!!