Thank the Lord, thank the Lord!!! This chick is happy it's Friday and that another week is in the books.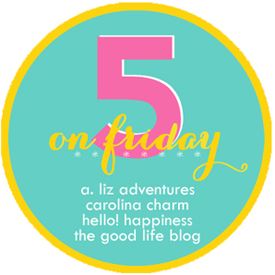 1. My Momma:
I mean she is one of my favorite people every week but this week she knocked it out of the park. On Tuesday I got a text from my HS bestie with a picture of this fabulous purse that she saw at a TJMaxx on the other side of town from where I live. Of course I sent to to my Mom just to point out how funny it was that even after all this time Jackie still knows me to a T.
Well yesterday on the way home from work I needed a pep talk so I called my mom and she answers and goes "guess what I'm doing".... "umm I don't know" "I'm on my way to TJMaxx to see if they have that purse"
YES!! Happy dance party in my car the rest of the ride home. My angel of a mother took a hard core detour on the way to her monthly sorority dinner to snag me that purse in case they sold out. And lucky for me she got the last one!
2. The husband:
He is great at putting up with my fad diets/workout plans/ideas/etc and this week he has done P90x3 with me every day! It just is great having him work out with me. It keeps me motivated to push harder and actually do the work out.
Which leads to...
3. P90x3:
Thank you for being so much more fun then the original P90x which I hated. But so far it has actually been an enjoyable experience. And Tony Horton you are a funny, funny man. 5 days down... 85 to go.
4. Cupcake:
Not the food, the cat.
If you know me you know that this doesn't make sense. He hates me and I don't like him either (so at least its mutual). But bless his heart... that massive storm we got on Tuesday night bonded us. CC has somehow managed to sneak his way into our room the past few weeks and has become a permanent resident in our bed at night, and that storm had us both jumping at every lightning bolt and roll of thunder. Tyler on the other hand slept through the whole thing except he did wake up once, shooting straight up ready to fight when a loud clap of thunder happened. I told him it was just a storm and 5 seconds later he was snoring again.
So yes it was just CC and I to brave the storm together. And at that moment I was actually thankful I had a ball of fur (that makes me sneeze) cuddled up next to me.
5. My swiffer:
Yes you read that right. That microfiber throw away cloth has been a blessing this week. It just so darn easy to get up all the dog hair so the Hubs and I can work out in the living room without being covered in hair. And when we both don't get home till after 6 and we still need to work out/eat/shower/relax, saving a few minuets by swiffering instead of having to sweep?! Awesome in my book