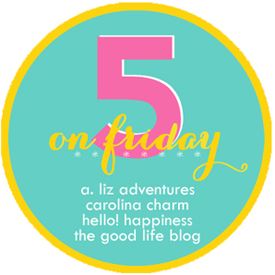 If you live in the Charlotte area I think you already know my five things this week.
1. Snow day
2. Snow day
3. Snow day
4. Snow day
5. Snow day again
It snowed all day on Tuesday and was beautiful. Sadly though I only got to enjoy it looking out the windows at work. It didnt stick to the roads and was mostly melted by the time 5 o'clock rolled around.
Wedensday was a different story though. Got up and headed to work like a normal day. It started doing some winter type things around 10 and when I got a text from Tyler at 10:30 telling me to leave work because the roads were getting bad, I said "ok". Told my boss I was leaving and headed home.
There was really nothing on the ground near my work but 2 miles away it was sticking to the road on 485 which in Charlotte is a big deal. The next hour was the scariest drive of my life. My phone died half way home, ended up having to go a back, back way because of a car stuck on a hill, and ended it by sliding into my neighborhood almost ending up in a ditch in my front yard.
I then spent the next hour in a state of panic waiting for Tyler to get home. It took him 2.5 hours to go 46 miles, and he ended up parking in our back yard because there was no way he was going to make it up our sled hill of a driveway.
We spent the rest of the day running around in the snow with the dogs, making chicken and dumpling soup and cuddling watching tv and movies.
And Thursday was spent doing the exact same thing.
All this snow has been fun but I'll admit I'm ready for spring.
Oh and Happy Valentines Day!