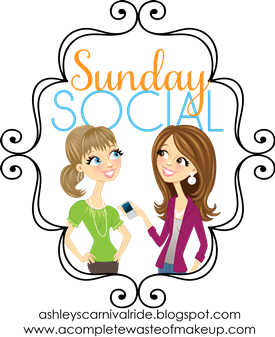 It's Sunday which means my favorite link up! Sunday Social! And this week it's about my favorite holiday Thanksgiving!
Fall is my favorite season because of the weather, the leaves changing and Thanksgiving. It's a holiday based around food. Of course that means it's my favorite. This chick luuuuuvs to eat.
1. Favorite Thanksgiving Memory
My favorite memory from thanksgiving 03. It was the first year I got to drive to my aunts house on my own in MY first car that I had gotten the day before. I felt like such a grown up and for once wasnt late since I didn't have to wait on my parents to get ready.
2. Favorite Thanksgiving Food
Green bean casserole. You know us white people love some casseroles.
3. What is a Thanksgiving Tradition you and your family have?
My aunt Maggie hosts Thanksgiving at her house every year and it's amazing. We hang out, eat a ton of food, the guys watch football, and then we play some ridiculous game. The past few years it's been RLC. If you haven't played you need to. You can win money and it's awesome.
Another tradition my family has is going to a park near my parents house and throwing a AA chip in the creek for my aunt Julie. She passed away 19 years ago this year and Thanksgiving was her AA birthday. So we celebrate her life every Thanksgiving by celebrating her sobriety birthday
At the park last year, praying before tossing the chip into the creek
4. Show us a favorite Thanksgiving picture(or 5) from years past
Cousin pictures from Thanksgiving are always my favorite.
5. What are you most looking forward to about this Thanksgiving?
THe fact that my Emily will be here for Thanksgiving is making me freak out. She is my cousin from California who goes to school in Vermont and usually doesnt get to visit until New Years so the fact that she will be here for Thanksgiving is like the best thing ever!