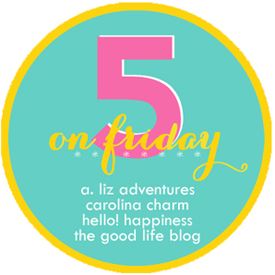 How in the heck is it already Friday? But hey I'll take it! I'm ready for next week to get here!
1. Excedrin migraine.... I've wanted to drill holes in my head the past two weeks and this stuff works miracles
2. Boots.... I've been wearing boots all week and loving it. I feel like a badass wearing boots. Not really sure why because it's not like I'm wearing combat boots (which I really want a pair) but yeah. I just feel cool!
3. The fact that Tyler gave Zoey a bath this week. Dear lord she was looking a mess and he stayed home from work on Tuesday (which will be mentioned in number 3) and while home he cleaned our sweet chunk.
4. The Panthers!!!! We kicked some Patriot booty on Monday night (which is why Tyler used a sick day on Tuesday, he was up late yelling at the TV) and it was AWESOME!
And now I really need one of these shirts thanks to Steve Smith's fantastic recomendation for Aqib Talib....
5. The fact that my car has heat. It has been freezing in the mornings and I'm thankful that I can warm my car up before I have to sit in it for the hour drive to work. Don't get me wrong I LOVE winter, but sometimes the cold makes me kinda bitchy....
Have a great Friday y'all!!!!