Yay it's Friday!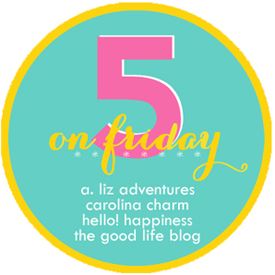 1.
9 round
gym. A few girls at work started going to this gym earlier this year when I was doing insanity. Insanity isn't happening anymore so I needed to do something, and I joined this week and I'm addicted already. I mean
hello
I get to work out wearing pink boxing gloves! It kicks my butt but I LOVE IT!
2. Tyler coming home after business trips. It sucks when he has to be gone, but it makes me appreciate him cuddling me in bed even more when he is home.
3. The dogs actually slept through the night last night. They had decided to start waking up every 2 hours baring/wining the past week which got old really quick. So last night we moved the dogs beds in to our room and it worked like a charm. Not a peep out of them until our alarms started going off this morning.
4. The Goldbergs. I seriously can not get enough of that show. If we could go back to the morals of the 80's my life would be complete. When kids were blamed/punished for their own mistakes instead of being babied and workout gear included neon headbands. Perfection.
5. Mexican take out for dinner tonight. I'm really excited.... like REALLY excited.
Have a great weekend guys!!!