I'm going to start with the backstory
A year ago on Halloween my mothers father (my Papaw) passed away.
I was married on September 24 of last year and he was unexpectedly able to come to my wedding.
I had no idea he was even there till I walked down the aisle.
After the wedding since he was a retired preacher
(well I say retired but the man preached the word of the Lord until the day he passed)
He wanted to pray over Tyler and I and our new marriage.
While all this was going on my photographer
Dana Jo
captured this moment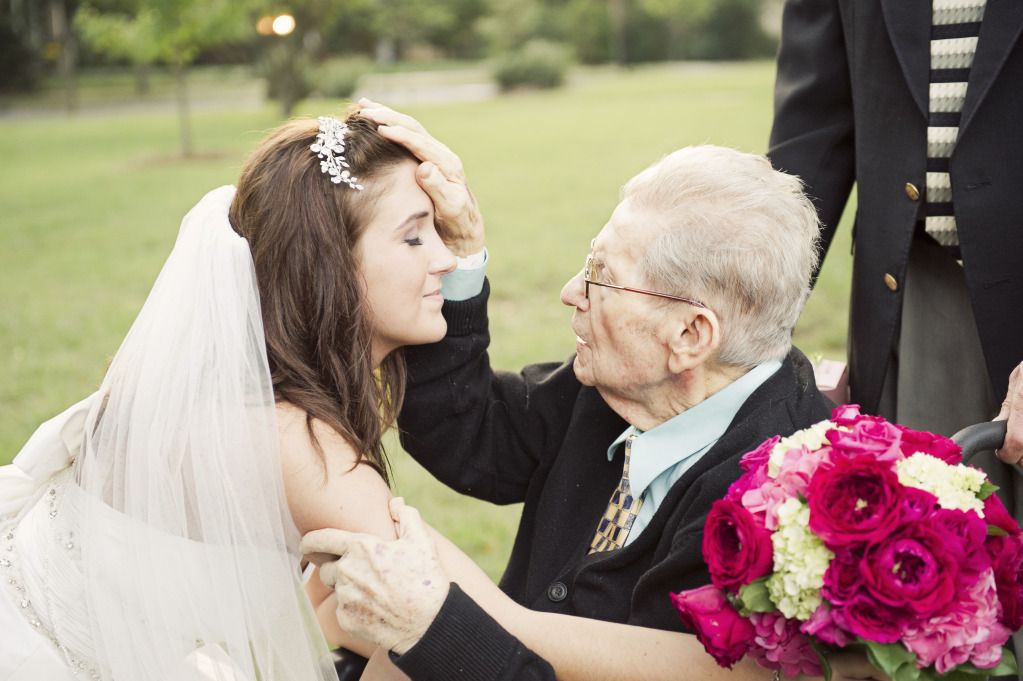 Anyways on to Facebook.....
I listen to a monring show here in Charlotte called
Ace & TJ
.
On Tuesday morning they were talking about wanting to put a picture on facebook to see if they could get 5000 likes.
This picture of Papaw and I sits on my desk and I instantly thought
"I bet that picture could maybe get close to 5000 likes?"
So I emailed it in.
And in all honestly I didnt think they would use it, I figured they would use a picture that was more risque or controversial.
Wednesday morning I got an email from the radio show asking for more details behind the picture.
At 8:20 that morning they announced that the picture they chose was put up...
I went to their facebook page and there it was!
Crazy....
So it begain.....
It got 5000 likes in less then 10 minuets.
At this moment on Sunday morning it is up to over 92,000 likes, over 800 comments and 664 shares.
This is insane to me!
And most of the comements are beautiful testimonies to the power of prayer and God.
Because of the great response they actually had me call into the radio on Thursday morning
Which for me was a dream come true!
If you know me at all you know that I've always wanted to be on the radio.
Even if it was just a short 5 minuet interview it still was AWESOME.
I didnt send in the picture for recognition at all.
I sent it in just to see.
And to be honest my Papaw would be tickled pink knowing his photo was all over facebook.
I mean the man had his cell phone on a necklace that he wore everywhere.
He loved the idea of social media, and technology.
Ok this post has gotten out of hand.
It has just been a crazy week!
But i got to check two things off my bucket list
Be "internet famous"
Be on the radio
Today I am thankful for the relationship that I had with my Papaw, and that i was lucky enough to have him in my life. That I grew up listening to him preach the Word, and got to learn from his testimony.