Yet again I've been MIA from the blogging world and I blame it on the country.
The no internet at home is killing me.
Trying to get out of debt and save for a future is making me hold on though.
Anyways... My three day weekend was fabulous!
Sunday was spent sleeping in with the husband and watching movies. Then Roxy had her first vet appointment and she did great.
Even the vet said that she seems really smart. Every time she was explaining something Roxy would stop and just watch and listen to what the vet was saying.
Then I headed to my parents and had dinner with dad and watched the SAG awards with him.
Yes my father watches award shows.
I don't think he would come right out and say it but every time one is on you can guarantee he is watching, and I doubt any of his motorcycle club friends know about it.
Tyler and I stayed with the parents on Sunday night (shorter commute for hubby, Monday mornings are early for him), which I'm fine with because that meant cable!

Monday I ran errands and hung out with mom and the dogs all afternoon which was entertaining.
Casper (little white dog) acts like he hates Roxy yet always plays with her.
And no they're not hurting each other, Casper's growl sounds a lot worse then his bite.
Candy (gray dog) really does hate Roxy and does her best to stay away from her.
Yes these videos are pointless/random I know.
And yes that is my coupon binder on the coffee table... I'm a crazy coupon lady in training!
Tuesday Tyler went to work early and was sweet enough to walk the puppy before he left then proceeded to throw her in bed with me (I think in an attempt to wake me up) and she passed back out on his pillow and we slept till 10:30. It was glorious!
So the day was spent cleaning and just hanging out with this sweet little girl all day.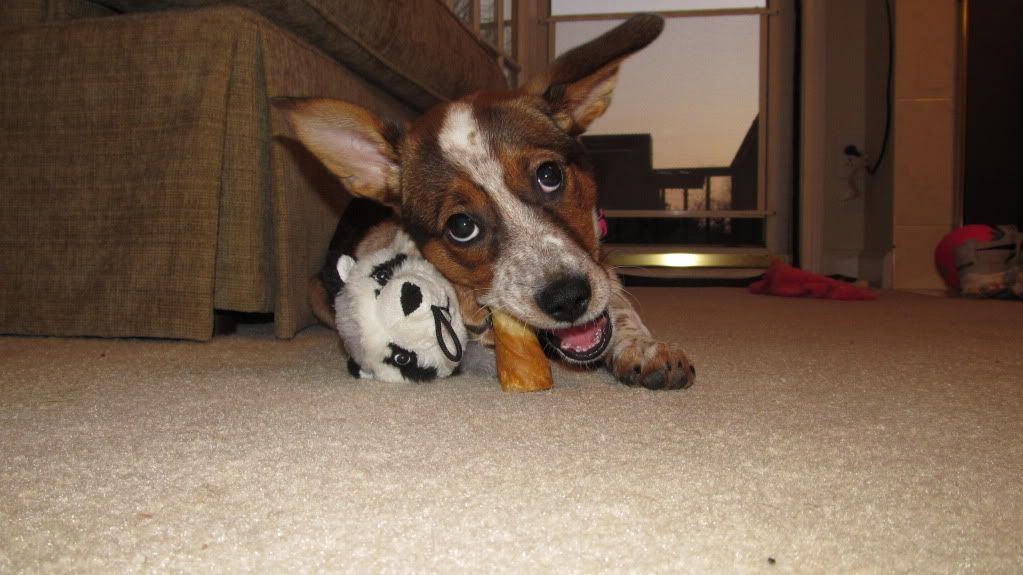 Now I'm back at work and it's the start of 9 days straight.
I'm not excited at all.

<3 Bekah